Watch Harry Potter and the Deathly Hallows: Part 2
---
"It all ends here."
Harry Potter and the Deathly Hallows Part 2 finds Harry Potter and his sidekicks, Ron and Hermione, at Shell Cottage, having just escaped another encounter with Voldemort at the Malfoy Mansion. Not everyone escapes unscathed and after burying a dear friend they stay at the Cottage for a little while to nurse their wounds and plan their next move.
Harry Potter, a young wizard whose fate has been entwined with the Dark Wizard's Lord Voldemort since the day he was born, has been faced the task of killing the most dark wizard of all time. With a bit of guidance, and help from his friends, he must hunt down the 7 pieces of Lord Voldemort's soul, also known as Horcruxes, and destroy them. Only then will the Dark Lord be weak enough to be killed.
As Harry, Ron and Hermione race against the clock, trying to reach the Horcruxes before Lord Voldemort realizes what they are doing, they uncover a tale about the 3 most magical objects of all time, and discover it may be more than a tale. In the second part of the conclusion of the Harry Potter saga, Harry must uncover the truth about the tale of the Deathly Hallows and decide if they will be of help during his quest to find Horcruxes.
While at Shell Cottage, Harry interviews both Griphook the Goblin and Olivander the wandmaker, one about the Hallows and one about how to reach the next Horcrux. A plan evolves and the three attempt the impossible, to break into Gringotts.
After their attempt is disastrous, but successful, Harry gets another glimpse into The Dark Lord's mind and discovers that the final Horcrux is at Hogwarts. The three make their way to their old home and are greeted by their friends, who are worn from Snape's guidance at the school but ready to rise up and fight. Soon Harry and his old schoolmates are facing the battle of a lifetime.
Appropriately enough, the final face off between the "Boy Who Lived" and "He Who Must Not Be Named" takes place in the very place where Harry discovered his magical heritage. Hogwarts is soon the scene of an epic battle between good and evil, with everyone Harry has ever cared for fighting for his cause.
With his Horcrux mission completed Harry must face the destiny that has been his since the day he was born.
|
2011
|
2 hr 10 min
|

/

10
Cast

Studio

Director

David Yates

Language

English
Harry Potter and the Deathly Hallows: Part 2 News
Will Batman v Superman Stay Hot?
March 29, 2016 @ 6:12 am PST
|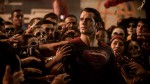 Batman v Superman was an unqualified hit with audiences last weekend, but it needs to be an even bigger hit to stay out of financial trouble. Given its critical woes, that could be a challenge.
Read More

You Can Now Visit a Harry Potter Themed Hotel
October 26, 2014 @ 5:23 pm PST
|
Read More

This 'Harry Potter' Detail Will Blow Your Mind
June 29, 2015 @ 11:38 am PST
|
Read More

Emma Watson Delivers Powerful Speech on Feminism as UN Ambassador
September 21, 2014 @ 10:03 pm PST
|
Read More


Watch Harry Potter and the Deathly Hallows: Part 2 Trailer

"Harry Potter and the Deathly Hallows - Part 2" Trailer 1|1:58

Watch Harry Potter and the Deathly Hallows: Part 2 Online - Watch online anytime anywhere: Stream, Download, Buy, Rent
Harry Potter and the Deathly Hallows: Part 2 is currently available to watch and stream, download, buy, rent on demand at DIRECTV NOW, Amazon, Vudu, Google Play, iTunes, YouTube VOD online.