Purina Incredible Dog Challenge
Most dogs are natural athletes, so it's no wonder that people would want to involve them in competitions, especially when there are so many people sitting at home who would be a captive audience. The challenges here range from games of dexterity such as catching Frisbees to completing complex obstacle courses. The humans who own the dogs spend a lot of time training them, but it's anybody's guess exactly what will happen when the moment of the actual challenge arrives and they are placed under the pressure of a timer with everyone watching. The unpredictability just adds to the fun.
2 Seasons,

3

Episodes

January 6, 2007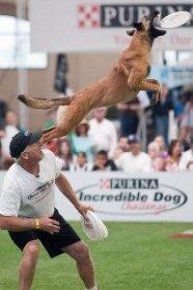 Purina Incredible Dog Challenge Full Episode Guide
Episode

1

-

2007 Western Regionals - Chandler, AZ

Part 1 - The Western Regional Competition - March 9-10, 2007 - Chandler (Phoenix), AZ.
Episode

2

-

2006 National Finals - St. Louis, Mis...

The National Championships - October 7, 2006 - St. Louis, MO.

Episode

1

-

2006 Eastern Regionals - St. Petersbu...

The Eastern Regional Competition - June 23-24, 2006 - St. Petersburg, FL.
If You Like Purina Incredible Dog Challenge, Then Try...